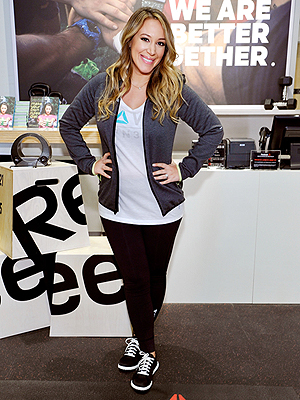 Courtesy Reebok
Just because she's pregnant with her first child doesn't mean that Haylie Duff has been taking it easy when it comes to her exercise routine.
"It feels good to be active a little bit every day," Duff, 29, told PEOPLE at the Reebok FitHub Studio City Grand Opening. "I think it helps your body feel looser. Your body doesn't feel like your own for a while, so it's nice to get it moving every day."
While the Real Girls Kitchen host says she was more cautious about the types of exercises she did in the beginning of her pregnancy, she's now back to a regular routine.
"I'm doing a lot of yoga, I'm doing a lot of Pilates, I'm going on walks, I'm spinning," she says. "You get this boost of energy back after a while, so I think that's contributing to my working out a little bit more."