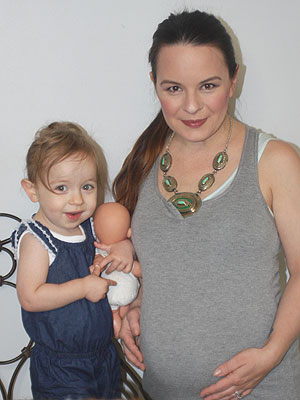 7 months and counting
Thanks for welcoming back celebrity blogger Jenna von Oy!
Best known for her roles as Six on Blossom and Stevie on The Parkers, von Oy is also a musician who has released two albums and is currently working on two books, including a fictional novel for young adults.
von Oy, 37, wed Brad Bratcher on Oct. 10, 2010, and resides in Nashville with her husband and five dogs.
The couple are parents to daughter Gray Audrey, 2, and are expecting their second child — another girl! — in early November.
You can find her on Facebook, Instagram and Twitter @JennavonOy, as well as posting on her weekly blog, The Cradle Chronicles.
In her latest blog, von Oy compares her family vacation to Biltmore with her honeymoon.