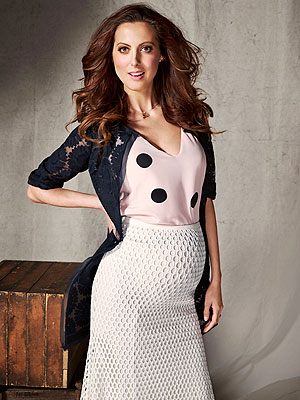 Chris Craymer
Like all first time moms-to-be, Eva Amurri Martino is throwing herself into baby preparation.
The expectant actress, who will welcome a baby girl in late summer, is also mastering another very valuable skill: how to style her changing silhouette.
"I'm learning how to dress for my new body shape," Amurri Martino, 29, says in the May issue of O magazine, which spotlights actresses of all different body types as part of their 'How to Love the Skin You're In' theme.
"People say you can wear your regular clothes, but it's not true! Everything has to be longer, especially shirts."
And just like the outfit she wore for the shoot — a white eyelet skirt from Elizabeth and James, a powder pink polka dot Sportsmax top and a lace jacket from Ann Taylor — Amurri Martino is all about accentuating her greatest asset.