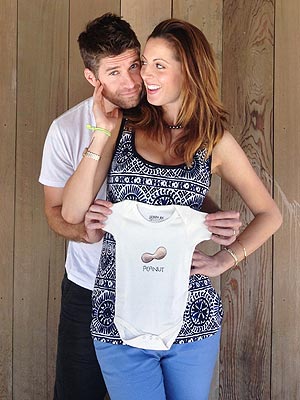 End of the first trimester! – Courtesy Eva Amurri Martino
Please give a warm welcome to our newest celebrity blogger, Eva Amurri Martino!
The actress, who has followed in her mother Susan Sarandon's footsteps, is best known for her roles in Dead Man Walking, Saved and Californication, with recent appearances on The Mindy Project and New Girl.
She's currently guest-starring on Undateable, airing Thursdays at 9 p.m. on NBC, and will next appear as Emily in the ABC comedy pilot The Winklers.
Two years after tying the knot in Charleston, South Carolina, Amurri Martino and her husband, sports commentator Kyle Martino, announced they were expecting their first child — a baby girl — in August.
You can find her on Instagram and Twitter @4EvaMartino.