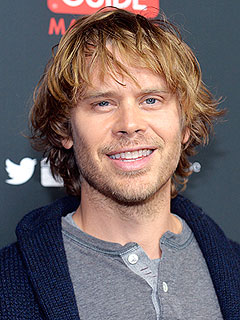 Michael Tullberg/Getty
Talk about big love.
Eric Christian Olsen and wife Sarah Wright had a big baby on their hands from the beginning — son Wyatt Oliver was 9 lbs., 8 oz. when he arrived in August. And he's only been getting bigger since then.
"We have the most giant baby of all time," the NCIS: Los Angeles star, 36, marveled to PEOPLE Monday at TV Guide's Hot List Party in Hollywood.
"He's already a linebacker. He's huge. He's an enormous baby. I think he's 19 lbs. at 10 weeks. So, he's a good sleeper. It's so much fun."
Wyatt may be a handful physically, but Olsen says it's the emotional intensity of fatherhood that was the biggest surprise to him.