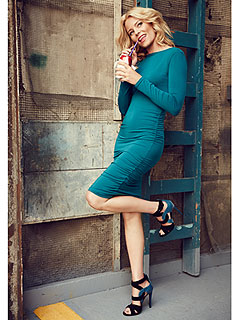 Courtesy Women's Health
Elizabeth Banks, who welcomed her second son Magnus Mitchell in November, loves being a mom — but it's wearing her out.
The self-confessed night owl reveals in the September issue of Women's Health that her 8-month-old is robbing her of much-needed rest.
"Even though I have a baby that wakes up anywhere between 5:30 and 6:30 in the morning, I still cannot get myself to bed before, like, 1 a.m. every night," she admits. "I am falling apart under the weight of lack of sleep."
Banks — mom to 2-year-old son Felix with husband Max Hendelman — says that even getting the simplest chores done can seem like a big deal.