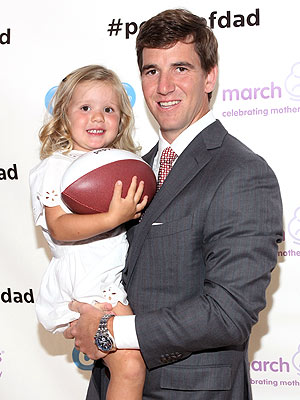 Bennett Raglin/AP
Eli Manning has gone from growing up in a house full of boys to being a real ladies man.
Not only is the New York Giants quarterback dad to daughters Lucy Thomas, who celebrates her first birthday Tuesday, and Ava Frances, 3, but wife Abby's extended family is full of women — leaving Manning surrounded on all sides.
"My wife has two sisters, then her mom comes and then it's six on one," Manning, 33, told reporters at the Oral-B and March of Dimes Power of Dad event on Wednesday.
Despite being outnumbered, Manning truly enjoys it and looks forward to being spoiled by his girls on Father's Day. While he's not sure what to expect, he is sure Abby has something up her sleeve.
"Now that Ava's 3, I'm getting it a little bit," he says. "My wife recorded something the other day of her saying, 'Happy Father's Day, Daddy. I love you.' It's fun to have those moments."