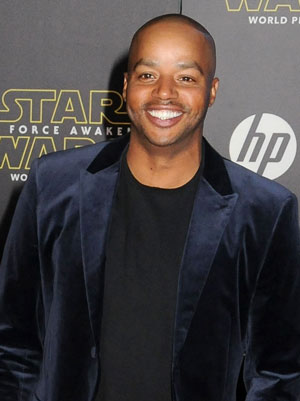 Byron Purvis/AdMedia
Stop, wait a minute!
While promoting Camp Halftime, his upcoming four-part comedic series launched by Pepsi, Donald Faison couldn't help but touch on his music-loving 2-year-old son Rocco.
"Rocco's really heavy into Bruno Mars' 'Uptown Funk,' like most people are," Faison, 41, tells PEOPLE exclusively.
"When it comes on, he'll dance for the whole song. His favorite part is 'Stop, wait a minute. Fill my cup, put some liquor in it.' When that happens, 'Julio, get the stretch,' he does the dance moves, he stops, he calls Julio. It's hilarious. He commands Julio to get the stretch."
Faison, who shares two children with wife CaCee Cobb, says his youngest child, 8-month-old daughter Wilder Frances, has her own little quirk.