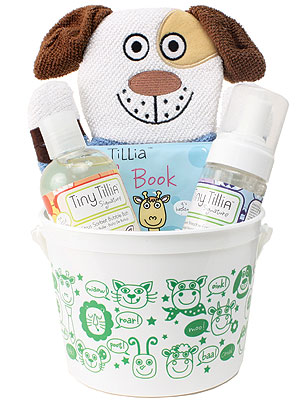 Courtesy of Tiny Tillia
High-quality, gentle bath products for kids are hard to find, which is precisely why we're so in love with Tiny Tillia's new, eco-friendly "Signature" body care collection.
Created by London based designer Tiffany Lerman — her mom is novelist Jackie Collins — each product is made with paraben-free formulas and botanical extracts that will leave your little ones smelling fresh and kissable.
They also feature endearing cartoon characters complete with a cool backstory. For example, Austin Elephant likes to play the electric guitar, while Rorsie Lion is nurturing and likes to give cuddles.
Whether you add a dose of fruity bubbles to the tub with the "Dilly Pig" Citrus Sorbet Bubble Bath ($12 for 8 oz) or make bumps and scratches disappear with the "Jac Jac Cat" Magic Cream ($10 for 6 oz), you and your little ones will be having loads of fun.
Plus, the Splish Splash Bath Bucket ($30, above) — which comes with a bath mitt, foamy wash, bubble bath and waterproof book — is the perfect baby shower gift.