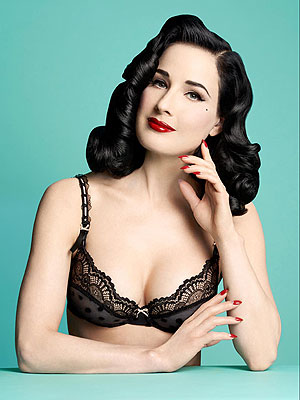 Courtesy Destination Maternity
Let's face it: From sleepless nights to crying babies, the initiation into motherhood can be a little less than glamorous.
Or at least that was the case before Dita Von Teese waved her stylish wand.
The iconic fashion star has partnered with Destination Maternity to launch a limited edition capsule collection, Von Follies by Dita Von Teese, that aims to embrace a new mom's sexy side.
"Elegant underpinnings are a simple way to create everyday moments of luxury and beauty, and why wouldn't a new mother enjoy beautiful lingerie, too?" Von Teese says.
"The collection I created with Destination Maternity is designed to capture the spirit of retro glamour, while inspiring confidence and meeting the practical requirements and everyday needs of a new mother."