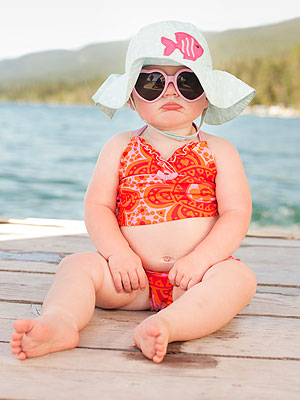 Getty Images
Summer is finally here — and so begins the daily dance of protecting your little one from the sun!
From sunscreens to creative cover-ups, we trolled some of our favorite online shops for some easy ways to dodge those harmful rays.
As you set aside 5 minutes to lather up on sunscreen before you and your child head out the door, it helps to have some sun protection tools in your arsenal. Like California Baby's sun care essentials kit ($36) — complete with sunscreen, sunglasses, swimmer's shampoo/conditioner and more — which comes in an easy to grab tote.
Coppertone KIDS tear-free lotion ($11) and Seventh Generation Wee Generation baby sunscreen ($14), both of which stay active for up to 80 minutes, are perfect for tossing in the diaper bag. MD Moms's Baby Silk towelettes ($26) are vitamin-packed and ideal for rubbing on those little fingers and toes.