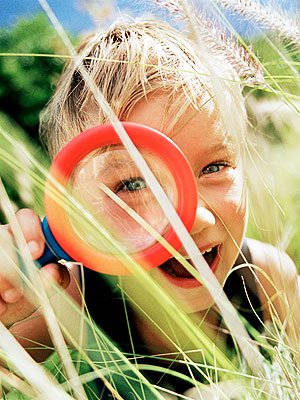 Getty
Science is awesome. Sometimes, it just takes a nudge to get our TV-loving kids to realize how fun, weird and wonderful it can be — even if it's just in your own back yard.
To help develop your budding scientist, we went to Chris and Martin Kratt, creators and stars of PBS Kids' hit series Wild Kratts for a few tips on how to grab their attention. Check them out below:
1. Explore your surroundings: Whether you live in the city, on a farm or in the suburbs, you can find extraordinary creatures everywhere you look. When you take a walk in a park or an open field, turn critter spotting into a game. Have your child look at trees, under rocks and logs and near water.
Make sure they pay attention to how wildlife move and where they live. You can also have the kids try to guess their "special creature power." And yes, it can be as odd as that sounds. Case in point: grey squirrels have back feet that turn backwards so they can move head-first up and down trees quickly as they collect and hide their food stash for winter.
Read More