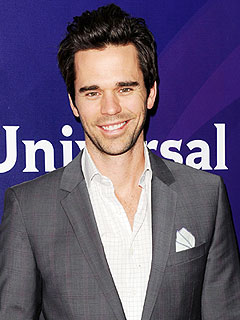 Fitzroy Barrett/Splash News Online
Since welcoming his second child in November, fatherhood for David Walton has suddenly become "absolutely terrifying" — and the most demanding part of double daddy duty may be playing the role of rescuer on a daily basis.
"With one you can golf occasionally," the About a Boy star, 35, told PEOPLE during NBC's TCAs on Sunday in Pasadena, Calif. "With two, if my wife [Majandra Delfino] has one baby on the boob, the other kid is wandering off somewhere and I have to get in there."
When he's not saving 19-month-old daughter Cecilia Delphine's life, Walton relishes in the quieter moments, when he is able to unplug and spend quality time with his little girl.
"My big thing now is everything off — phone off — and just watch them play. It's fascinating," he shares.