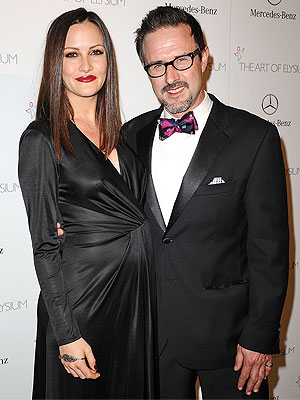 Jason LaVeris/FilmMagic
Becoming a father can be a daunting prospect, but as David Arquette prepares for his baby boy on the way, the actor is not letting the stress get to him.
"I've done it once so there's not that fear that a first-time parent has because you just don't know what to expect," Arquette, 42, told PEOPLE after the TCAs panel at the Langham Huntington Hotel in Pasadena, Calif. on Sunday.
"Animals across the world have babies and they know how to take care of them instinctually. Us humans get so in our heads about it all but as soon as the baby comes it is just instinct."
But Arquette – who is already a parent to his daughter Coco, 9, with ex-wife Courteney Cox – admits that becoming a father is a life changer and he is making sure to schedule his work with his girlfriend Christina McLarty's due date in mind.