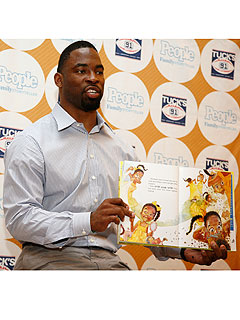 Andy Kropa/Getty
New York Giants defensive end Justin Tuck has found a new talent: Author!
"Reading is very important to any success," Tuck, 29, told PEOPLE during a Family Storyteller event at N.Y.C.'s Housing Works Bookstore Café on May 5.
The Super Bowl champ and dad read from his children's book, Home-Field Advantage, which is inspired by Tuck's own childhood adventures (including being pushed around by his five older sisters), to show that toughness comes in all forms.
Even the cover image was based on snapshots of Tuck running through the yard as a kid. The young boy also bears a resemblance to Tuck's 2-year-old son, Jayce, whom the NFL star describes as "the most fearless little kid I've ever been around."
Read More