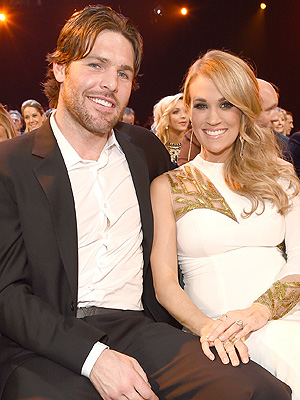 Jason Merritt/Getty
Carrie Underwood is blown away: She's a mom!
The country singer welcomed her first child, a son, with husband Mike Fisher on Friday, Feb. 27, Underwood announced Tuesday on Facebook.
"Tiny hands and tiny feet … God has blessed us with an amazing gift! Isaiah Michael Fisher — born February 27," the first-time mom captioned a sneak peek of her newborn.
Fisher's paternity leave was cut short as The Nashville Predators hockey player was back on the ice for a Saturday match in their hometown. But his son's birth could be his good luck charm: The star forward scored and his team earned yet another win, a possible lock-in for the playoffs despite losing Tuesday night's game in New Jersey.
"We were excited; there's nothing better than being a dad. Obviously, the important thing is everyone is feeling good and mom's feeling good," Fisher told reporters after the loss. "We're definitely blessed to have him join us in our lives. There's no better feeling."