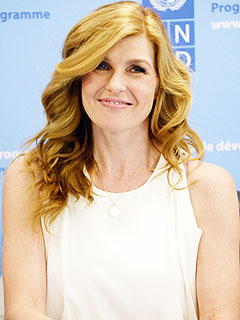 Anthony Behar/Sipa USA
Connie Britton might have a real cowboy Casanova on her hands!
The Nashville star was recently named a Goodwill Ambassador for poverty eradication and women's empowerment by the United Nations, and has no fears that her 3-year-old son will help her pave the way.
"Oh my gosh, he's surrounded by loudmouthed women all the time. He's always learning about women," Britton jokes to PEOPLE of teaching her son Yoby about female empowerment.
"I am actually really proud, I think he's going to grow up with a real strong sense of how to treat women because he's around them so much — especially powerful, strong women."