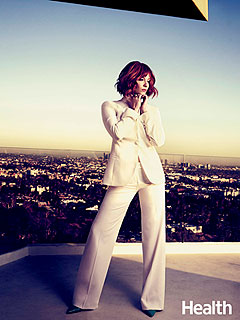 James White for Health
Her Mad Men character balances being a partner at the ad firm with raising a baby (whose secret father, viewers know, is silver fox Roger Sterling). Christina Hendricks, however, is content to pamper a furrier friend: her new dog.
"We got a puppy, and that's my idea of starting a family. People say, 'Oh, that's practice for parenting,' but if it's practice for anything it's to be a mom to another puppy," Hendricks, 38, tells Health in their May issue, on stands April 18.
"We've decided that we are not really interested in having children."
She continues: "It's just very normal for people to say, 'Well, when you guys have kids …' And then when I say, 'Actually, I don't think we're going to do that,' people will say, 'Oh, you say that now …' It doesn't bother me, though. And, you know, there's a small chance I could change my mind."
Read More