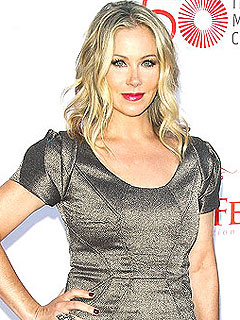 Michael Tran/FilmMagic
Christina Applegate is many things — including an Emmy-winning actress, a cancer survivor and a philanthropist.
But there's another side of the Anchorman star that nobody knew about … until now!
According to the actress, she's a total dance mom to her 3½-year-old ballet dancer, daughter Sadie Grace.
"Sometimes I'll find myself watching her in class, and I'm like, 'Oh my God, you're so being a dance mom,' " Applegate, 42, told PEOPLE at the Fourth Annual Celebration of Dance Gala presented by The Dizzy Feet Foundation on Sunday.
"I'm sitting [there] in my head going, 'Why isn't she pointing her foot that way?! Someone needs to go in there and fix her foot!'"
Applegate, who can no longer dance herself because of injuries — but still occasionally guest-judges on So You Think You Can Dance, grew up with an extreme passion for the sport.
Read More