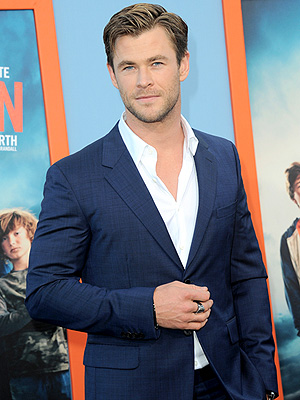 Getty
No, Chris Hemsworth isn't forcing his daughter to promote him in Avengers attire.
The Aussie hunk (and 2014 winner of PEOPLE's Sexiest Man Alive) tells Glamour that his oldest child, India Rose, 3½, has caught on to the fact that her father is a superhero on the big screen — and loves it.
"Once, her friend had on a Spider-Man costume, so she put on a Thor costume," he says. "Of course she wouldn't take it off. Thankfully, there weren't any paparazzi – you can imagine the headline: 'Forces Child to Wear Thor Costume.' "
Hemsworth, 32, also shares twins Sasha and Tristan, 19 months, with wife Elsa Pataky — who is also an actress.
In fact, the star says sharing a career — and swapping notes — with the blonde beauty is one of the great aspects of their relationship.