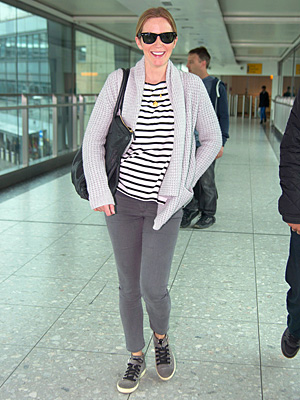 INF
Precious cargo coming through!
While making her way through London's Heathrow Airport on Saturday, Emily Blunt glowed in an all-gray maternity ensemble.
The mom-to-be managed to not only look cool, but also comfy in Autumn Cashmere's Draped Waffle-Rib Cardigan ($396), Hatch's striped top ($98), AG Jeans' Twill Signature Pocket Slim Leg Maternity Pants ($188) and coordinating sneakers.
And for a little extra polish, the actress added black Ray Ban Wayfarers ($200), a gold charm necklace and an oversize leather bag.
Love her airport chic? You're in luck. We've rounded up similar items — all under $65!
Read More