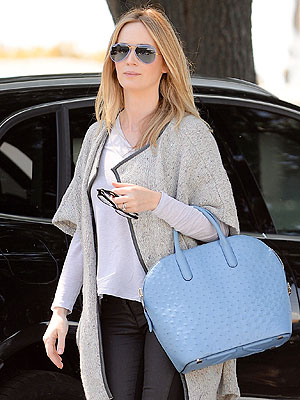 National Photo Group
It's hard to believe Emily Blunt just welcomed daughter Hazel a little over a month ago.
The new mom stepped out looking gorgeous (and rested!) Tuesday to hang out with a friend in Los Angeles.
Using a powder blue pebbled tote for a pop of color, The Five-Year Engagement actress paired a gray Inhabit sweater coat with a white tee, black 3×1 jeans and aviator shades.
Last February, Blunt's husband John Krasinski happily announced their baby's arrival.
"Wanted to let the news out directly. Emily and I are so incredibly happy to welcome our daughter Hazel into the world today! Happy bday!" wrote the former Office star on Twitter.
Read More