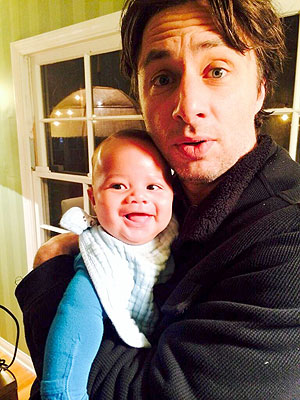 Courtesy Zach Braff
Paging Zach Braff for baby duty!
The Scrubs star looks like he's back on call — this time as godfather! — in a new photo posted Wednesday to his Twitter account.
In the sweet snapshot, Braff, 38, can be seen cuddling up with his former costar Donald Faison's 4-month-old son, Rocco.
"Me and my god son. Made with @donald_faison's sperm," he jokingly captioned the photo.
The actors grew "so close" after starring together on the hit series, which wrapped in 2010 after eight seasons.
"I genuinely like hanging out with the dude, and I feel like he genuinely likes hanging out with me," Faison told PEOPLE in 2008. "We have the same sense of humor. We laugh at the same jokes."