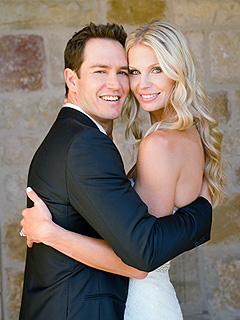 Elizabeth Messina
Mark-Paul Gosselaar has a secret — but he's not sharing!
The Franklin & Bash actor and his wife Catriona McGinn have found out the sex of their first child together, but the couple have decided to keep it under wraps until the September delivery.
"We have two names in the running," Gosselaar, 39, tells PEOPLE.
Fortunately, the future father-of-three — Gosselaar is also dad to Ava, 7, and Michael, 9, from his previous marriage — doesn't need to divulge too many details in order to solicit suggestions from his costar Breckin Meyer.
"Breckin Gosselaar, that's unisex. It can be a boy or girl," he says, prompting Gosselaar to admit the name has "a ring to it."
Read More