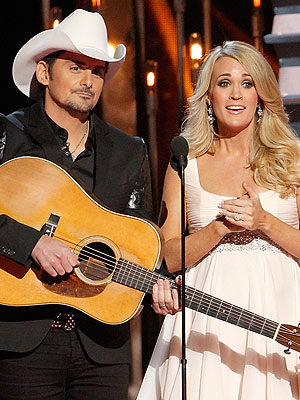 Terry Wyatt/FilmMagic
Carrie Underwood just let out a big secret on country's biggest night.
Well, actually, her CMAs co-host Brad Paisley did the spilling, revealing the sex of her baby!
"We're pregnant," Paisley said onstage, begging, "Can you please just tell me what we're having?"
Underwood — who is expecting her first child with husband Mike Fisher — whispered into Paisley's ear, and he cried, "I'm so happy! I know something y'all don't know."
A couple Taylor Swift, Ebola and Renée Zellweger cracks later, the joke came full circle.
"We could name him Garth," Paisley suggested, honoring presenter Garth Brooks, whom Underwood wanted to "sign my baby."