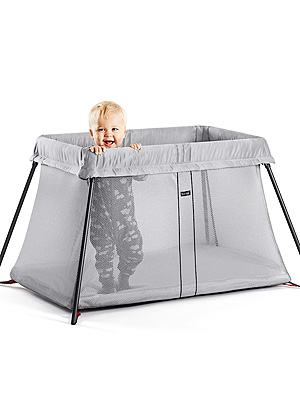 Courtesy BabyBjörn
We Tried It: BabyBjörn Travel Crib Light
Who tried it: Rennie Dyball, senior editor
Why she did it: I've heard many raves about this travel crib, so with a beach trip on the itinerary, I wanted to see what all the fuss was about.
Pros: From opening the box to sitting my daughter down inside this newest version of BabyBjörn's crib/play yard took all of two minutes. Seriously.
To borrow an Apple buzzword, the setup was completely "intuitive," and the mini crib sheets I had in the closet from her daycare days fit the mattress perfectly. At 13 lbs., the Travel Crib Light lives up to its name, and it folds up almost impossibly small into its own carrying case. What more could you want for travel?