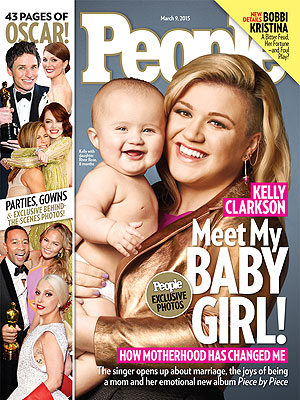 Anders Overgaard
Kelly Clarkson opens up about marriage, the joys of being a mom and her emotional new album Piece by Piece. Subscribe now for instant access to her exclusive interview and personal family photos, only in this issue of PEOPLE!
Kelly Clarkson may be a hits machine, but when it came to naming her daughter, she admits that it didn't take that much mental heavy lifting to conjure the unique moniker River Rose.
"We were going back and forth on what to name her," the singer, 32, tells PEOPLE in this week's cover story. "And I like androgynous names."
During one day of her pregnancy, she and husband Brandon Blackstock, 38, were relaxing at their Nashville-area home when inspiration struck.
"We live on a river, so it really wasn't that creative," Clarkson — whose new album Piece by Piece comes out March 3 — says with a laugh.