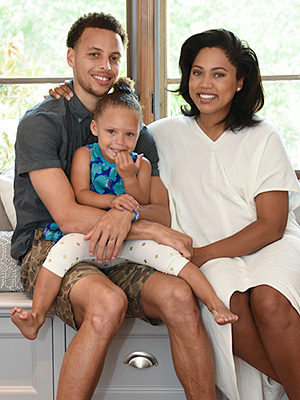 Alli Pura Photography
Expect to see a new adorable guest at Stephen Curry's post-game press conferences.
The Golden State Warriors star's wife, Ayesha Curry, announced in a blog post on Sunday that the couple had recently welcomed a new daughter, Ryan Carson.
"God is amazing," Ayesha wrote. "The gift of life is truly an indescribable thing. We were fortunate enough to experience it all over again Friday night! Our beautiful little Ryan Carson Curry arrived perfectly healthy and happy!"
Sharing a photo of his girls on Tuesday, Stephen added, "Thanks to the doctors and staff at Alta Bates for taking care of my girls, especially Dr. Poddatori. Healthy baby and @ayeshacurry is all I prayed for. #prouddaddy"
Ayesha reported that Ryan weighed in at 6 lbs., 1 oz. and arrived after three hours of labor.