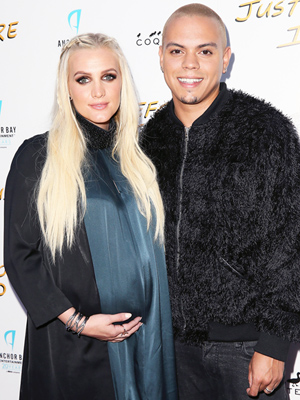 David Livingston/Getty
It's a girl!
Ashlee Simpson welcomed her first child with her husband, singer and actor Evan Ross, on Thursday, July 30, they announced on their Instagrams Friday.
"We are overjoyed about the birth of our precious baby girl, Jagger Snow Ross," the couple wrote.
"Ashlee is doing amazing and their daughter is perfect," a source tells PEOPLE. "She's gorgeous!"
The singer and actress, 30, and Ross, 26, celebrated the pending arrival of their baby girl with a whimsical baby shower at sister Jessica Simpson's home in June.
"Daddy @realevanross and my brother @rossnaess. It was an amazing night. #babyshower," the mom-to-be captioned a photo of her sitting on a moon cut-out under a sky of hanging stars.
The couple announced they were expecting a baby together in December — and told PEOPLE exclusively in February that it was a girl! But despite already being mom to 6½-year-old son Bronx Mowgli, Simpson admitted everything felt like a whole new experience.