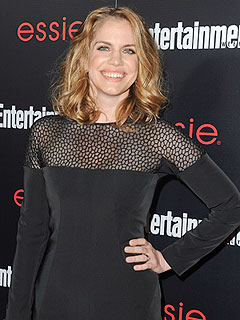 Angela Weiss/Getty
It's only been six months since she gave birth to her daughter, Penelope Joan, but Anna Chlumsky has already regained her slender, pre-pregnancy figure, and for the Veep star there's no mystery as to how she did it.
"People have asked this, and I've gone, 'Oh, I don't know!' Of course I know," the actress, 33, told PEOPLE at the Entertainment Weekly Screen Actors Guild Party in Hollywood.
"I exercised a lot while I was pregnant, I did pregnancy workout tapes five days a week, and I did pregnancy yoga once a week. I was exercising, and it was the best thing."
Not that expectant mothers need to learn anything more about fatigue, but the actress — who burst onto the scene in 1991's My Girl — feels that you can either fall prey to tiredness or get physical, and that's why she's a proponent of working out during pregnancy.