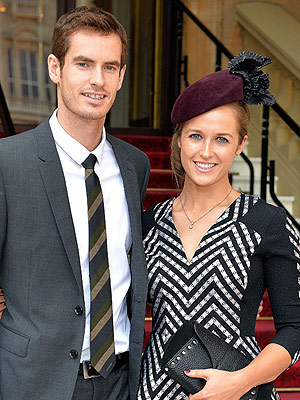 John Stillwell/AFP/Getty
Tennis star Andy Murray is a dad!
Wife Kim Sears Murray gave birth to a daughter, Sophia Olivia Murray, on Sunday, Feb. 7.
"Andy and Kim had a daughter in the early hours of Sunday morning and the family are doing well," the rep tells the BBC in a statement.
Murray's maternal grandmother, Shirley Erskine, revealed she received the happy news via text.
"We didn't know what the baby's sex was going to be," she told BBC Scotland. "Andy and Kim said from the ouset that they didn't want to know … It was nice to get a little surprise like that — it's a girl!"
She adds, "They know we are here and they know that we would love to see them. I'm quite sure that if he can fit a trip up in, I'm sure he will."
The couple, who married at Dunblane Cathedral in Scotland in April and confirmed to PEOPLE they were expecting in August, were apart for the final weeks of Sears' pregnancy as Murray reached the final of the Australian Open in January.