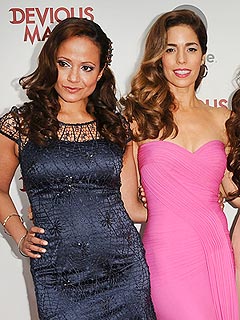 Jason LaVeris/FilmMagic
Their mischievous mamas may be the hired help in their new series Devious Maids, but Judy Reyes and Ana Ortiz's daughters much prefer to pretend they're the belles of the ball.
"My daughter [Paloma] is into anything princess so it's all about Tangled and Brave," Ortiz, who is also mom to 21-month-old son Rafael, told PEOPLE at the TCAs.
"My daughter [Leila] is obsessed with the movie Brave. Sometimes she's like, 'Mommy, let's play Brave,' so we literally reenact scenes from the movie," Reyes shares.
But while her mama happily shows off her acting skills, Reyes' 3½-year-old isn't afraid to don her director's cap.
"She does the lines and then we switch roles and she goes, 'No! Don't say it like that. This is impossible!' She'll probably be a director," she adds.
Read More