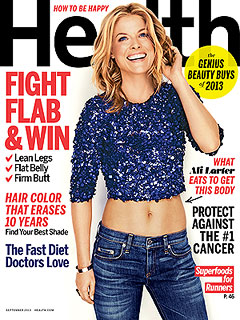 Courtesy Health
When Ali Larter was pregnant with her son Theodore Hayes back in 2010, the Obsessed actress gained 45 pounds — and unlike many Hollywood starlets, Larter says the post-pregnancy pounds didn't drop off easily.
"A lot of women say that they breastfeed and the pounds come right off," Larter, 37, says in the September issue of Health.
"For women who gain 25 pounds, that's probably true … I gained 45 pounds. Mine came off at about five months, after working out a lot and doing a food delivery service," she says.
The actress, whose cookbook Kitchen Revelry is due out next month, also tells the magazine that postpartum weightloss and toning is a whole different ballgame.
Read More