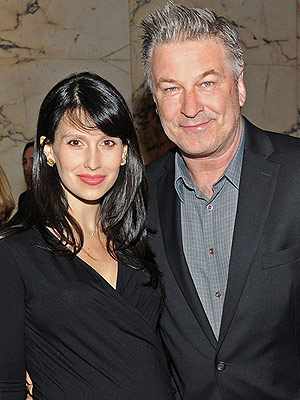 Owen Hoffmann/Patrick McMullan.com/AP
Meet Alec Baldwin's baby boy!
The actor introduces his second child with wife Hilaria in this week's issue of PEOPLE Germany as the new family of four pose with their son Rafael Thomas and proud big sister Carmen Gabriela, 21 months.
The Baldwins welcomed their son on June 17 and took to social media to announce his arrival — where they also posted a photo of Hilaria holding hands with their newborn.
But hours later, while stepping out to serve as host of an event, the new dad admitted things had not exactly gone according to plan.
"We come in [to the city] for Hilaria to go to the doctor … everything's fine. She wakes up Tuesday — 1:30 in the morning, not feeling good, then 2:30 in the morning feeling really lousy," Baldwin, 57, explains. "We go to the doctor at 9:30 a.m., he says, 'Come back at 2 and I'll tell you if it's real.' We go back at 2 p.m. and they admitted her."