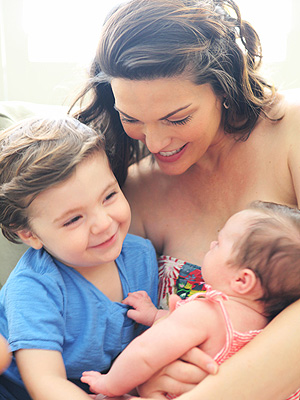 Michael Roberts
Alana de la Garza is still glowing — and she's not even pregnant anymore!
It's been almost three months since the former Law & Order star and her husband Michael Roberts welcomed daughter Liv Elena into their world — and the family couldn't be happier.
"Not to sound like a total mush, but even at 3 a.m., with breast milk all over my shirt, I just stare at her in awe and thank God that I have two healthy beautiful babies," the 37-year-old actress tells PEOPLE, adding that both Roberts and their son Kieran , who turns 3 this weekend, are equally smitten.
"I love seeing my son with a look of adoration at his new 'baby sista.' I love seeing my husband cuddle our children, and I love looking at my kids and feeling like our family is complete," she says.