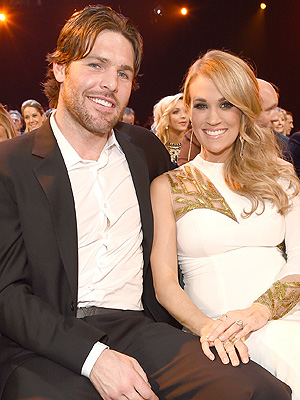 Jason Merritt/Getty
Carrie Underwood is blown away: She's a mom!
The country singer welcomed her first child, a son, with husband Mike Fisher on Friday, Feb. 27, Underwood announced Tuesday on Facebook.
"Tiny hands and tiny feet … God has blessed us with an amazing gift! Isaiah Michael Fisher — born February 27," the first-time mom captioned a sneak peek of her newborn.
Underwood, 31, used the family's furry members — and pink and blue T-shirts — to announce her pregnancy in September.
"In honor of 'Labor' Day, Ace & Penny would like to make an announcement. Their parents couldn't be happier," the mom-to-be, who debuted her baby belly days later, captioned the photo.
But it was fellow country star Brad Paisley who spilled the beans on the sex of her baby on the way. "We could name him Garth," he joked at the CMAs in November.