Kim Kardashian West Wants North or Saint to Be a Forensic Investigator: 'I've Always Been Into the Most Morbid Things'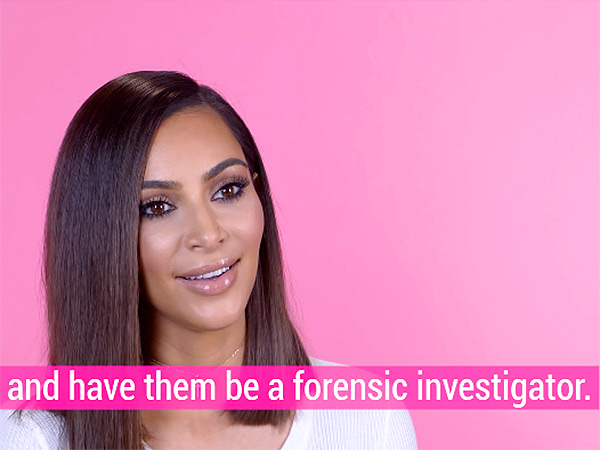 Kim Kardashian West already has career hopes for her children.
"I'm gonna be that annoying, pushy mom and say I want to live vicariously through my daughter or son and have them be a forensic investigator," Kardashian West, 35, says in an interview with SheKnows.
The wife of Kanye West admits she's obsessed with crime shows — and one real-life incident she had close proximity to as a teenager.
"I've always been into the most morbid things," she explains. "I was really nosy when my dad was working on the O.J. trial, and I would look through all his stuff, and I just wish I was in that field. It's the only type of TV I really like to watch."
Want all the latest pregnancy and birth announcements, plus celebrity mom blogs? Click here to get those and more in the PEOPLE Babies newsletter.
"I love Making a Murderer," adds Kardashian West, who is mom to Saint, 9 months, and North, 3. "I love any murder show."
When asked which of her husband's songs are her favorite, the Keeping Up with the Kardashians star has a touching answer, inspired by their little girl.
"One of my favorite Kanye songs is called 'Only One.' He wrote it about his mom singing to him," she says. "He references our daughter in it, so I think it's really sweet. And our daughter is in the video."
The reality star isn't afraid to get real when taking a selfie near the end of her interview, requesting a "pretty filter" and then sharing one detail that she didn't know about until after giving birth to her kids.
"I didn't know that you have to wear a f—ing diaper after you have a baby. Like, the mom does," she says. "For, like, a good few weeks. It's disgusting.
"But it's all worth it. Childbirth is so worth it," she adds in a sweet tone. "Except for the diaper."
— Jen Juneau