Working Mom! Tess Holliday Shares Another Sweet On-Set Photo of Her Breastfeeding Son Bowie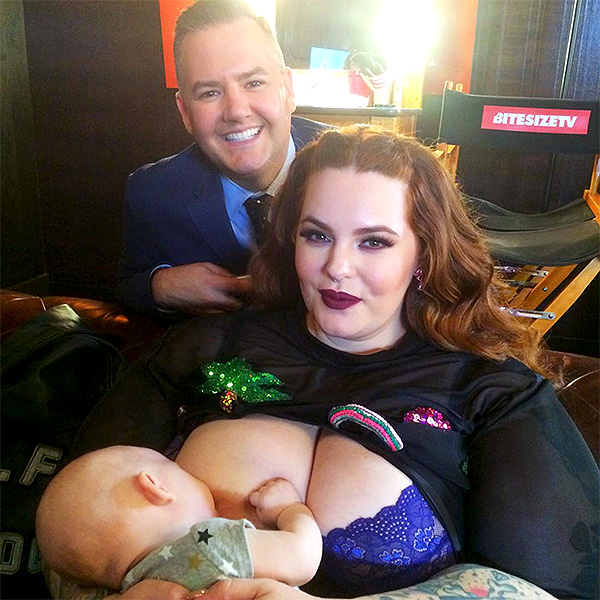 Source: Tess Holliday/Instagram
A mama's gotta do what a mama's gotta do!
On Thursday, model Tess Holliday shared another photo of herself multitasking by breastfeeding her son Bowie Juniper, 3 months on Tuesday, during her working hours.
The sweet snap shows Holliday, 31, glammed up from her clothes to her hair and makeup, sporting a sexy cobalt blue bra and nursing baby Bowie.
"@helloross keeping me company while I nurse Bowie after taping @hollywoodtodaylive this morning," the mom of two wrote alongside the photo, adding the inspirational hashtags, "#normalizebreastfeeding," #effyourbeautystandards" and  "#freethenipple."
Want all the latest pregnancy and birth announcements, plus celebrity mom blogs? Click here to get those and more in the PEOPLE Babies newsletter.
Holliday and her partner Nick have been consistently positive and encouraging of both Holliday's breastfeeding and the freedom for others to be able to do the same without fear of judgment from outsiders.
RELATED VIDEO: Meet Supermodel Tess Holliday's New Bundle of Joy
"[This photo] reminded me of [Gisele Bündchen's] iconic photo breastfeeding on set," the model wrote next to a July photoshoot-prep shot, which was taken by Nick.
"Working moms come in all shapes, sizes, colors & creeds!" the body-positive Holliday added, alongside the hashtags, "#normalizebreastfeeding," "#workingmom" and "#whorunstheworld."
"A lot of people seemed to get upset that @tessholliday posted a photo hashtagged '#normalizebreastfeeding' which didn't actually feature the act of breastfeeding. So here you go," Nick wrote next to a beautiful black-and-white snap in June.
"Don't let anyone make you feel bad about feeding your child, wherever that may be, and for the women out there who can't breastfeed, don't let anyone make you feel bad about that either," he added.
— Jen Juneau