Alec Baldwin Jokes About Loving the Baby Smell: 'I Huff My Son'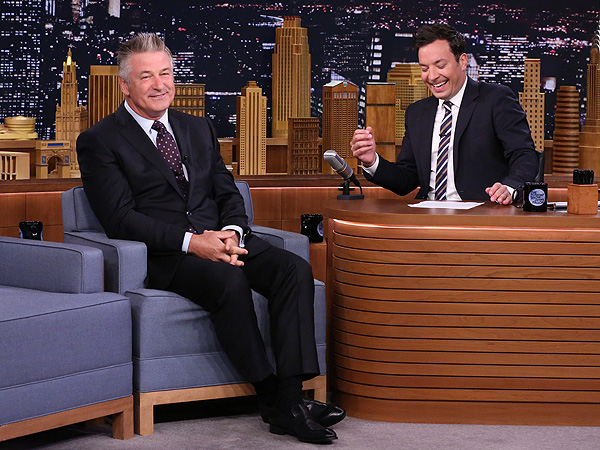 Andrew Lipovsky/NBC/Getty
Alec Baldwin may be a seasoned father of three (with another son on the way!), but the actor is still completely captivated by the signature smell of a baby.
During a Thursday appearance on The Tonight Show, Baldwin — dad to son Rafael Thomas, 14 months, daughter Carmen Gabriela, 3, as well as 20-year-old daughter Ireland — admitted he can't stop himself from constantly sniffing his youngest.
"You know what huffing is, right? It's not a pleasant thing — people who huff chemicals?" the former 30 Rock star, 58, asked Jimmy Fallon.
"Now I huff my son. I take his body and I go … " he says, inhaling loudly.
Jokes Baldwin, who is expecting another son with wife Hilaria "any day now," "And the bad part is — like when you huff chemicals — then I black out on the sidewalk. I pass out."
Want all the latest pregnancy and birth announcements, plus celebrity mom blogs? Click here to get those and more in the PEOPLE Babies newsletter.
Rafael is quite the character, according to his dad. Particularly, he has learned when nap time is coming — and has a very specific behavior he exudes to try and get out of it.
"Rafael is the sweetest kid in the world, but when the nanny comes toward him, he has an uncanny sense of the time of day when it's nap time," explains Baldwin, who currently hosts the new Match Game on ABC.
"So when she comes toward him, he literally makes that sound like [Frankenstein's monster] makes, like … " he continues, mimicking the famous growl and voice. "Fire, bad! Nap, bad! Snacks, gooood!"
Baldwin shares that he and his wife, who is a yoga instructor, are used to getting more mail than their neighbors. And it comes as no surprise that most of it is for their kids.
"I always joke that when I come home to my apartment in New York, there'll be like a pile of mail that belongs to all the rest of the people in the building, then there's a pile just for our house," he says, holding his hands up high. "Of like, diapers and butt cream and butt paste.
"[Hilaria] buys stuff for the kids by the container load," he adds, joking, "When you see ships at a port, that's just diapers and butt paste for my house."
— Jen Juneau