Simone Biles Tells Kim Kardashian West She Wants North to Be Her 'Mini Me'
The Fierce Five might need to make room for a sixth member.
U.S. women's gymnastics team member Simone Biles joked that Kim Kardashian West's daughter North could be her "mini me," after the reality star revealed the toddler was emulating the Olympian's moves.
"North is watching @Simone_Biles in awe," Kardashian West wrote on Twitter while watching the women's gymnastics qualifiers on Sunday night. "She's rolling around on the bed pretending to copy her lol."
Responding Monday, Biles – who earned a spot in the all-around competition – wrote to Kardashian West of North, 3, "Aww that is just too cute! she totally needs a #gkSimone leo and she'll be my mini me!"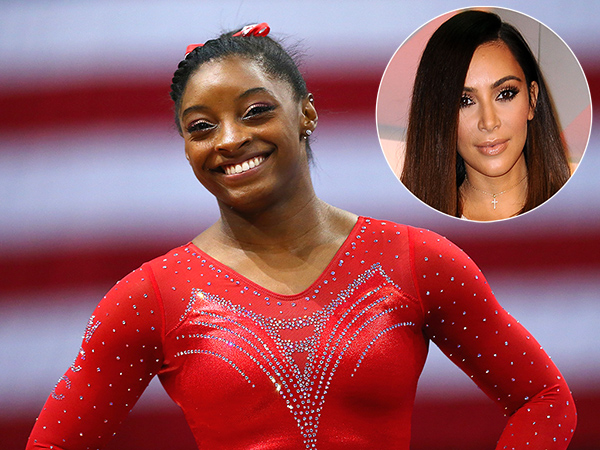 Maddie Meyer/Getty Images
Want all the latest pregnancy and birth announcements, plus celebrity mom blogs? Click here to get those and more in the PEOPLE Babies newsletter.
Earlier in the night, Kardashian West, 35, tweeted, "Women's gymnastics is amazing! Who's watching the Olympics? I remember going to see this sport at the Atlanta Olympics!"
The mom of two is a big fan of the champion pint-sized gymnast.
Ahead of the Rio Games, Kardashian West wished the 19-year-old the "best of luck" in a video shared by the NBC Olympics Twitter account. Said the star, "We're all rooting for you back at home."
For more of PEOPLE's Olympic coverage, pick up our collector's edition, The Best of the Games, on sale now.
Related Video: 5 Things to Know About Simone Biles

In response, Biles thanked Kardashian West on the social media site, and revealed that she's "obsessed with North."
Kardashian West then shared that North had just started gymnastics, joking, "Maybe she can show you some moves?"
Luckily, those Biles leotards come in toddler sizes, so North can step into her idol's shoes, stateside.
To learn more about all Olympic hopefuls, visit teamusa.org. The Rio Olympics are currently airing on NBC.
–– Lindsay Kimble