Olympian Ashleigh Johnson's Mom Jokes Her Daughter Was 'Not Happy' Eating Anything Without Meat
Training and rest are obviously important when it comes to getting ready for a big sporting event. But as three moms of Rio-bound female athletes and one former Olympian discuss on the latest edition of PEOPLE's Mom Talk, diet is also a huge factor.
"I'm Jamaican, so I made a lot of rice and peas and chicken and vegetables," says Donna Johnson, mother of 2016 U.S. Olympic Women's Water Polo Team member Ashleigh Johnson. "And [my children] had two or three portions each.
"Ashleigh, who is the Olympian, likes a lot of meat," she continues, joking, "If you gave her anything without meat, she was not happy."
For more of PEOPLE's Olympic coverage, pick up our collector's edition, The Best of the Games, on sale now.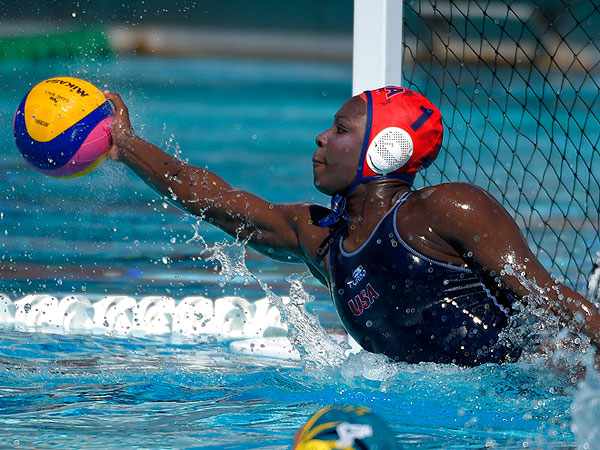 Mark J. Terrill/AP
Rita Wieber, mother of gymnast Jordyn Wieber, can relate to wanting to provide for and instill good eating habits in her daughter that will help her perform her best in her sport while staying healthy, both physically and mentally.
The technique she used? A "low, medium, high" chart on the refrigerator, listing food types Jordyn could eat, and how much per day.
"So [with] the 'highs,' she could only have one out of the list — and that would be kind of the more junky stuff," Wieber says.
But nothing was totally off limits in the Wieber household.
"I've always heard you're not supposed to completely [eliminate foods] because that just makes kids want things," she explains.
"Ashleigh makes her own food," Johnson adds of her 21-year-old daughter. "So it was good that she cooked with me when she was at home. And now she calls every now and again and says, 'Mommy, how do you make this?'
"So I give her a little bit of instruction, but she pretty much does her own thing now, which I think is wonderful."
— Jen Juneau