'The First Jenner Boy!' Caitlyn Jenner Cuddles Her Newborn Grandson Bodhi: 'The Name Moves On'
Caitlyn Jenner is one proud grandparent.
The I Am Cait star took to Instagram Sunday to share an adorable photo of herself hanging out with her eldest son Burt and his newborn baby boy — and to reveal the new addition to the family has been named Bodhi Burton!
"So excited for @bjenner and Valerie," Caitlyn, 66, captioned the sweet shot on Instagram. "They named their adorable first child Bodhi. The first Jenner boy!! The name moves on :)."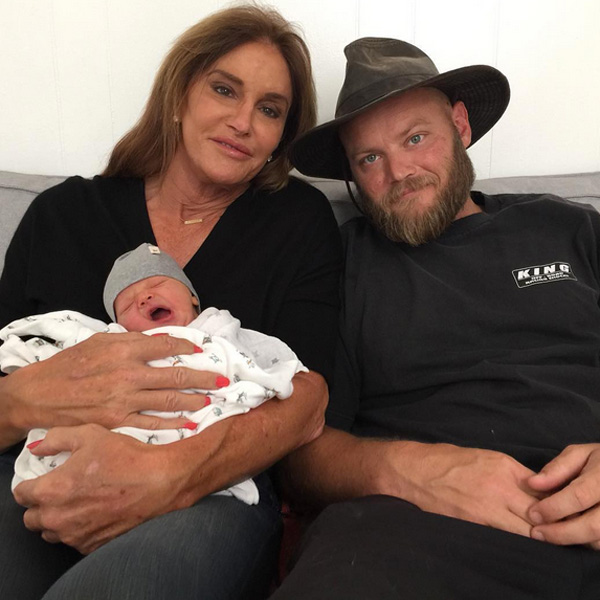 Source: Caitlyn Jenner/Instagram
Want all the latest pregnancy and birth announcements, plus celebrity mom blogs? Click here to get those and more in the PEOPLE Babies newsletter.
Burt, 37, welcomed Bodhi with his longtime girlfriend Valerie Pitalo on Wednesday, and in the days since, the happy couple has shared a slew of adorable pictures of their son.
"My guys," Pitalo captioned a picture of Burt looking down at Bodhi. "Welcome to the world Bodhi Burton Jenner. Born July 6th, 2016. 9 lbs. 4 oz. 21 1/4 inches long."
Pitalo also shared another picture of Bodhi asleep, joking about his adorable — and impressively large — feet.
"Biggest baby feet I've ever seen," she wrote. "#Bigfoot #heavyweightchamp #chunkymonkey."
On Sunday, Burt shared yet another adorable shot of himself cuddling up to his first child.
"Past few days have been extremely gratifying," he wrote, adding: "#IpromiseNoMoreBabyPics."
RELATED VIDEO: The Caitlyn Jenner Story — From Olympic Icon to Transgender Hero
Burt is Caitlyn's first child with his first ex-wife Chrystie Scott, whom Caitlyn (at the time known as Bruce) was married to from 1972-81.
Bodhi is Caitlyn's first grandson, though the former Olympian is also a grandparent to son Brandon Jenner's daughter Eva James, 11 months, with wife Leah, as well as daughter Cassandra Jenner Marino's daughters Francesca, 6, and Isabella, 4, with husband Michael Marino.
And before too long, Bodhi will have another boy to play with: Cassandra is expecting her third child, a son, with Marino in October.
— Aurelie Corinthios