Pregnant Blac Chyna Takes Flight with Rob Kardashian in Comfy Airport Look
Blac Chyna and fiancé Rob Kardashian were spotted at a Los Angeles airport on Saturday, heading through TSA security before jetting off to an unknown location.
The 28-year-old mother-to-be covered up her growing baby bump in a comfy black "One Piece" brand jumpsuit. She wore the jumpsuit's hood up, but kept her long dark locks down in the relaxed look.
Kardashian, 29, kept things casual as well, in his trademark LA Dodgers baseball cap and black shirt with matching pants.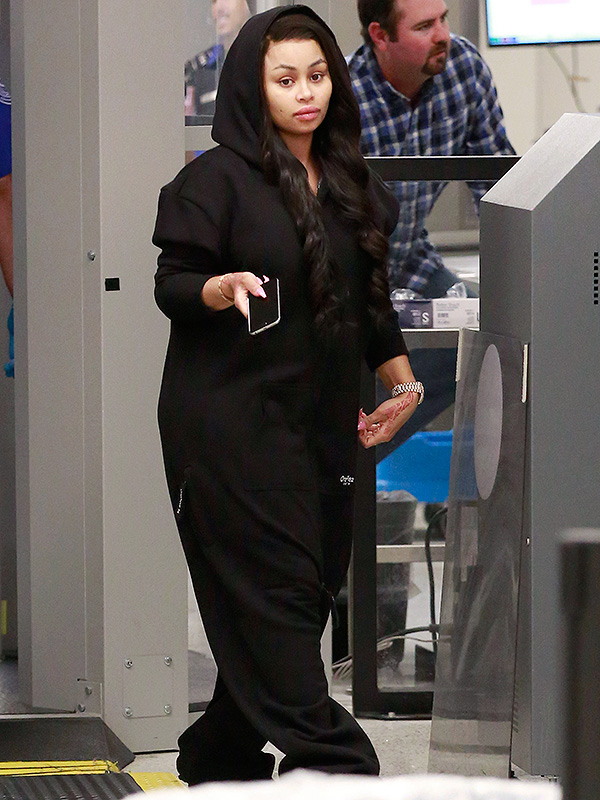 Sharky/Polite Paparazzi/Splash
Jumpsuits have long been a staple of Chyna's wardrobe, and maternity doesn't seem to be stopping her from slipping back into her sexy style. She was last seen in a form-fitting printed suit, back in May.
Though cameras didn't follow Chyna and Kardashian to the airport, they have been filming an upcoming E! reality series, Rob & Chyna, where they'll share all the baby details they've been keeping under wraps.
"They won't share any details. They are saving it for their show. Even when friends ask, they refer to their show and say they will share it all on the show," a Kardashian source told PEOPLE. "Both Rob and Chyna are very excited about their show. They can't wait to share everything with their fans."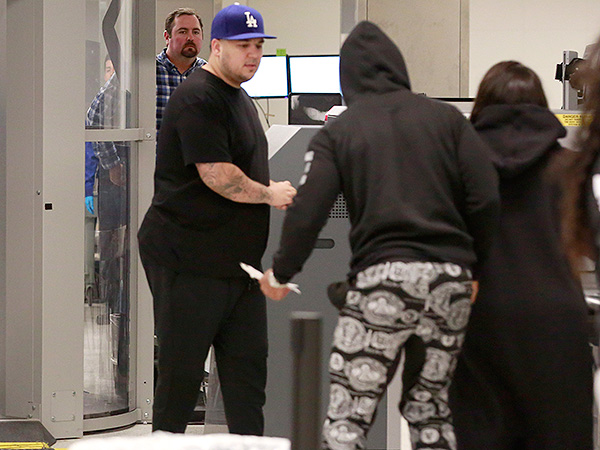 Sharky/Polite Paparazzi/Splash

The Keeping Up with the Kardashians reality star popped the question in April – just 10 weeks after they took their relationship public. And in May, Chyna and Kardashian, 29, announced they were expecting a baby. This is the first child for Kardashian and the second for Chyna, who shares 3-year old son King Cairo with Tyga, Kardashian's sister Kylie Jenner's on-again boyfriend.
King Cairo is already one adorable older brother for his future sibling-to-be. Oh Thursday, Chyna shared a sweet video of her her son rubbing her baby belly gently with a big smile on his face.
WATCH: Blac Chyna and Rob Kardashian Celebrate Khloe's Birthday With Kim, Kourtney and Kylie
Chyna has also patched things up with the Kardashian clan [DASH] bonding with Rob's sisters at Khloé Kardashian's 32nd birthday. At the bash, the parents-to-be were surrounded by Kim Kardashian West, Kourtney, Kylie Jenner, and mom Kris Jenner along with their closest family and friends. The KarJenner sisters and Chyna flaunted their camaraderie on social media, sharing several photo booth snaps as well as videos on Instagram.
"The girls have really come around since Rob and Chyna first got together," a Kardashian source told PEOPLE exclusively. "They're trying to be as supportive as possible, especially now that she is pregnant." Adding, "They've seen the transformation Rob has made," says the source. "Just a year or two ago, none of them could get him to even leave the house, and now he's happily celebrating Khloé's birthday out in public."
–Dave Quinn