Jeff Goldblum on Being a Hands-on Dad to Son Charlie: Taking Family Baths Is 'Delightful'
Jeff Goldblum may have become a first-time father at the age of 62, but the actor has had a very good reason for waiting until later in life to have a kid.
"I never seriously considered it until [wife Emilie Livingston]," Goldblum, now 63, told Parade magazine of his 11-month-old son Charlie Ocean.
Adds the Independence Day: Resurgence star, who has been married twice previously, "I'm at a different place now. I was enthusiastic to marry [Emilie] and try to have a baby."
Goldblum has been a household name since the mid-1980s, with his big break in the sci-fi thriller The Fly. And as it turns out, his newest film has even more meaning to the well-loved star than just the fact that he gets to reconnect with the ideas and people involved in the original, 20 years later.
"Charlie was born on Independence Day, July 4, while we were shooting Independence Day: Resurgence in Albuquerque!" he shares.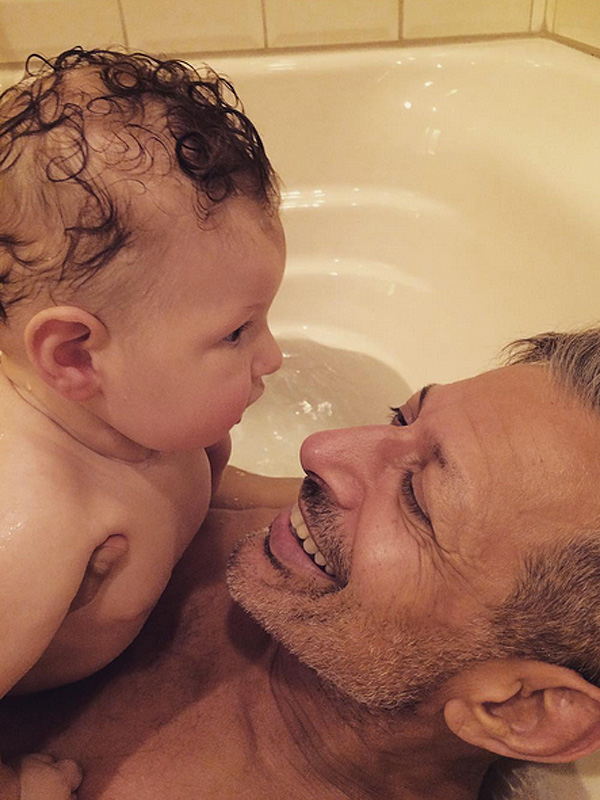 Jeff Goldblum/Instagram
Want all the latest pregnancy and birth announcements, plus celebrity mom blogs? Click here to get those and more in the PEOPLE Babies newsletter.
Charlie — whom former Olympic rhythmic gymnast Livingston, 33, found out she was pregnant with the day before she and Goldblum married — has a moniker that has special meaning to his proud parents.
"My dad had a younger brother, my uncle Chuckie, whom he adored. 'Charlie' is a form of 'Chuckie,' " Goldblum explains, noting that his son's middle name is simply a nod to the fact that he and Livingston like the ocean.
"My uncle was my exact height, looked like me," he adds. "Chuckie died in his 20s as a pilot in World War II."
The Jurassic Park alum can't help but rave about his wife, whom he refers to as "fantastic" and a "hard worker." He tells Parade he met her at the gym, when he approached her — and she had no idea who he was.
"I was immediately thrilled by her and walked over," he says, confessing that as soon as he learned his now-wife was studying acting, he said he was an acting teacher and offered to help her with her craft.
"The next couple of days I pursued her. I talked to my friends about her. I was like a teenager," he continues. "She makes me and Charlie laugh. I like the way I make her laugh too. It's important to me, the way we make each other laugh."
As for a favorite bonding activity with his family?
"Charlie gets bathed every night at 6:20, the three of us together in the bathtub," he says. "It's just delightful."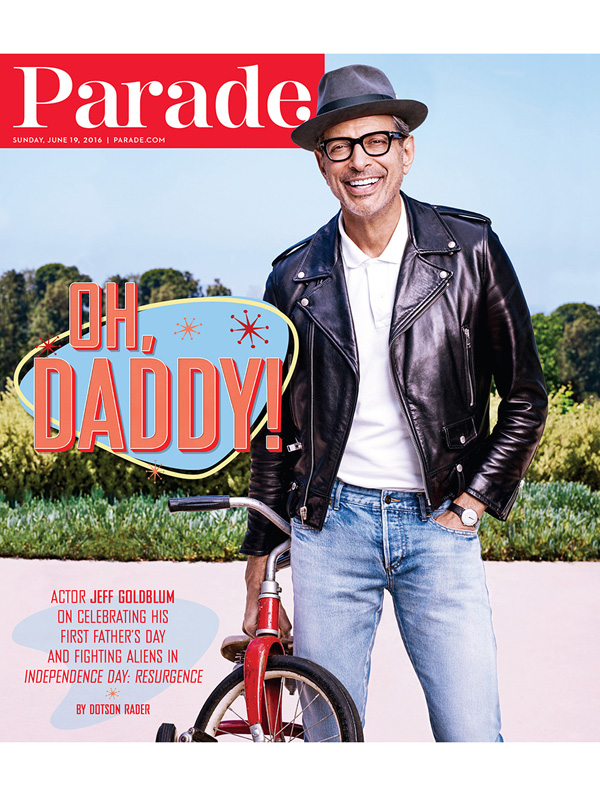 Parade
The proud dad is extremely hands-on when it comes to taking care of his son's everyday needs.
"This morning I made his bottle and I changed his diaper. And then I sat there and watched him play. He was very happy," Goldblum says. "He's standing up now. He can't walk, but he's crawling. He's just started to say, 'Dada.' It's thrilling."
Goldblum continues, "He goes to bed at the same time every night and takes his naps at the same time. He's been sleeping through the night since he was 4 months old."
And at the end of the day, the new dad — who says he's happiest "at home. It's a very happy place with Charlie and Emilie there" — just wants his son to be happy, and make a meaningful contribution to the world.
"That he continues to follow his own curiosity," Goldblum says of his hopes for his son. "At the end of the day, I hope both Charlie and I have lived lives that contributed something to the general good.
"In terms of our dignity and humanity, even our survival, it won't work for any of us unless it works for everybody."
— Jen Juneau