Blake Lively on Giving Her Children a 'Nice, Normal Upbringing': Robbing Them of What We Had Would 'Feel Really Selfish'
Blake Lively has had quite the year. Aside from juggling regular acting work and being the unofficial Disney Princess of Cannes, the 28-year-old actress is expecting her second child with husband Ryan Reynolds.
One mystery? Whether the new baby will take after his or her mom in the looks department, as the couple's 18-month-old daughter James definitely favors one of them more.
"[She] looked like [Ryan's] doppelgänger for the first six months," said the Age of Adaline star — who has two movies, The Shallows and Café Society, coming out this summer — for her Marie Claire July cover story.
But James is starting to resemble her mom more now, at least in a couple of distinct ways.
"She has my clammy hands!" Lively jokes. "And my heavy eyelids, my meaty eyelids."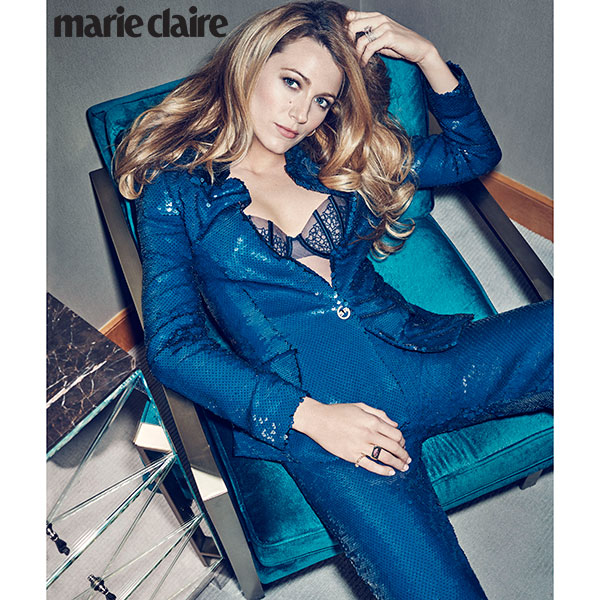 Beau Grealy
Want all the latest pregnancy and birth announcements, plus celebrity mom blogs? Click here to get those and more in the PEOPLE Babies newsletter.
All joking aside, Lively is serious when it comes to prioritizing her career and family — namely, that the latter comes first, and that she keeps it close to her heart.
"All my eggs are in one basket, and that's my family," she explains. "That's where my heart is. That's where my everything is."
She continues, "My family: That's the thing that I feel most protective of and the thing that I feel is the most exposed when I feel exploited."
The Gossip Girl alum has no qualms taking on multiple acting projects, cooking for her family (a favorite activity), parenting James and thinking about what she and Reynolds, 39, want for the future of their family.
"Ryan had a nice, normal upbringing, and we want our kids to have the same normal life that we had," she tells Marie Claire. "We don't ever want to rob them of what we had because then we'd feel really selfish."
It's not hard to root for Lively and Reynolds as an all-star parenting team. They "were friends for years," then spent a lot of time together as best friends, according to Lively, before they were married in 2012.
"A best friend just makes you happier. You can go from being silly to opening up and being vulnerable," shares Lively, who adds she knew she wanted to marry Reynolds when she realized they would be best friends for the rest of their lives. "You're surrounded by comfort in sad, painful times. And that's what matters."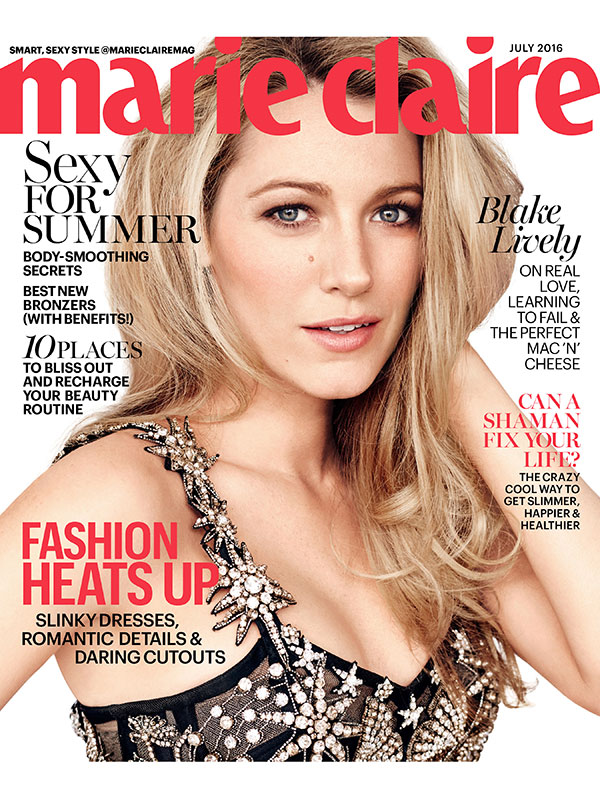 Beau Grealy
Lively explains that her daughter is named for Reynolds' father and her own grandfather.
"My husband's father's name was James. My grandfather's name is James. It shows up a lot in both our lineages. And I have a boy's name, and my mom has a boy's name — Willie — although she goes by her middle name, Elain, because she was so made fun of at school. But Willie's her real name, and I love that," Lively explains.
And if her own passion is any indication, her children will have a rich life full of trying on different hats and not being able to explore all different types of opportunities.
"For young women out there, putting limitations on anyone is dangerous and doesn't encourage women," Lively says. "You should feel free to try anything and everything you feel good about."
She adds, "It should be as celebrated to fail as it is to succeed, because that's life. That's always made me the happiest: to follow what I feel like I can't not do."
RELATED VIDEO: Ryan Reynolds and Blake Lively Expecting Second Child
And as much as she likes to tackle various kinds of projects, the one thing Lively works for is never-changing.
"My parents, my siblings, my daughter, my husband, my nieces and nephews — that's where I get very mama bear," the actress says. "There are two ways to look at it. You could look at it as, 'That's what I'm vulnerable about.' But also, 'That's the thing that excites me in the world.'
"So I don't really think about them as my vulnerability as much as I think about them as my reason for everything."
— Jen Juneau