Liev Schreiber on Working in Los Angeles While His Kids Live in New York: 'It's Hard on Me Most'
Liev Schreiber may be known for playing hard guys onscreen, but when it comes to his family, he's anything but.
"It's tough," Schreiber, 48, said Tuesday on The Ellen DeGeneres Show of being based in New York City with partner Naomi Watts and their two sons — Sasha, 8½, and Samuel Kai, 7½ — but working in Los Angeles much of the time.
"The kids are at that age where you kind of want them to have a continuity with friends and school," he adds, telling the host that not having a set schedule where he gets to see them is "awful."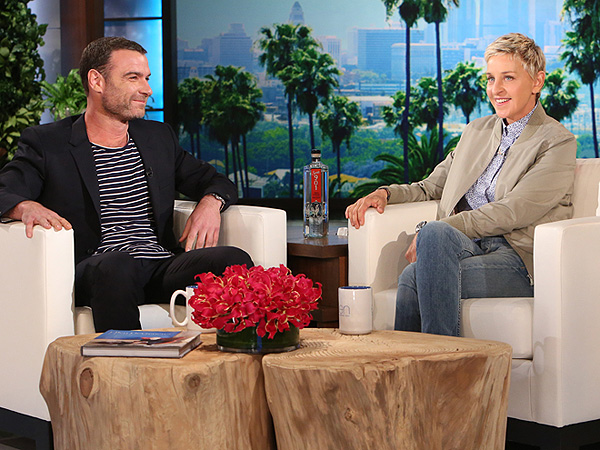 Michael Rozman/Warner Bros.
Want all the latest pregnancy and birth announcements, plus celebrity mom blogs? Click here to get those and more in the PEOPLE Babies newsletter.
Schreiber notes that Sasha and Kai are in a great school in New York City and that he and Watts, 47, are trying out the bi-coastal scenario to give his children stability and an environment where they can be around their friends.
"You have to put them first at a certain point, and the back-and-forth thing can get tough," he says. "It's hard on me most, I think."
One thing the Spotlight actor tries? FaceTime — but it doesn't exactly go the way he wants it to.
"I try to FaceTime with them, but they're just bored," he jokes, generating laughter from the audience. "It's a horrible feeling.
"I work a 16-hour day and I have like, 20 minutes to talk to my kids, and they're just like, 'Hey Dad,' " he mimics in a groan.
"Are you boring?" DeGeneres asks jokingly. "What if you danced for them?"
"I do dance for them," Schreiber replies. "They love to dance."
Schreiber then shares that he and his sons have a hilarious way of male bonding: After they bathe, they do the "Willy Dance" — which is exactly what it sounds like.
"Is it a way to dry off?" DeGeneres asks.
"It is a way to dry off because you chafe down there if you don't get dry," Schreiber jokes.
— Jen Juneau