Jana Kramer Welcomes a New Tour Guest: 4-Month-Old Daughter Jolie!
Jana Kramer's most recent tour guest is the cutest one yet: her 4-month-old daughter, Jolie Rae!
"I have Jolie out on the road with me most of the time, and to do what I love and be able to combine both is just a pretty great feeling," the country singer, 32, tells PEOPLE exclusively. "I look back and say, 'Wow, this is what I've always wanted,' and it's come true — I'm a mom and a touring musician. It can't get any better than that."
For Kramer, routine is key. While she always makes sure to have her "mandatory 10 minutes of fun" with her band before hitting the stage, there is one slight aspect of touring that has changed since she gave birth.
"The first couple shows I was like, 'Wow, I'm out of breath,' " says Kramer, who will be embracing Malibu Rum's "Because Summer" campaign at the brand's pop-up Beach House at Faster Horses Country Music Festival in her home state of Michigan. "I've gotten back in the routine of things, and it's all going good."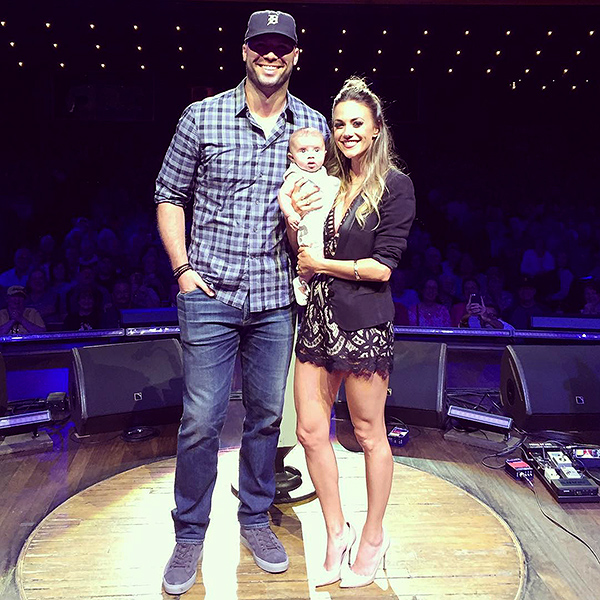 Jana Kramer/Instagram
Want all the latest pregnancy and birth announcements, plus celebrity mom blogs? Click here to get those and more in the PEOPLE Babies newsletter.
Kramer and her husband, former NFL tight end Michael Caussin, welcomed their first child together on Jan. 31 in Nashville.
In the "Said No One Ever" singer's PEOPLE.com pregnancy blog, she touched on everything from being in labor to Jolie's frightening time in the NICU. But now that it's all smooth sailing, she says, "The best part of it is that my daughter and I are learning new things together every day as they come."
Adds Kramer, "She's adorable. She's turning into a little person. It's the cutest thing ever."
She continues of the milestone she and Caussin are highly anticipating, "She still hasn't laughed yet, so we're like, 'Come on, laugh!' Right before you called me, she was making all these little cooing sounds."
And Jolie is still making her rounds. For the 4th of July holiday, Kramer will be venturing back home to her family's lake house in Gaylord, Michigan, to introduce Jolie to her great-grandparents.
"It's just nice because they're getting older, and 4th of July is one of my favorite holidays because we shoot off fireworks on the lake with people and sing songs around a campfire, so it's just a really great time," Kramer shares, adding, "My husband hasn't been there either."
— Nicole Sands