Michael Bloomberg Will Be a More 'Doting Grandpa When Jasper Can Play Golf,' Says His Daughter Georgina
You won't find former mayor of New York City Michael Bloomberg crawling around pretending to be a horse with his grandson on his back.
Right now, he doesn't have a ton to talk about with his grandson, Jasper. Probably because he's only 2½ years old and not into politics just yet.
"I think he'll definitely get more natural as Jasper gets older," his daughter Georgina Bloomberg told PEOPLE at the GOOD+ Foundation's annual bash in Central Park Wednesday.
"I think when Jasper can play golf and have a conversation about current events, he'll be a lot more interested," Georgina adds of her dad, laughing. "For now, my mom is definitely the more doting grandparent, but once he's older I think he'll have a lot of great stories to tell and a lot of great lessons to pass on to Jasper."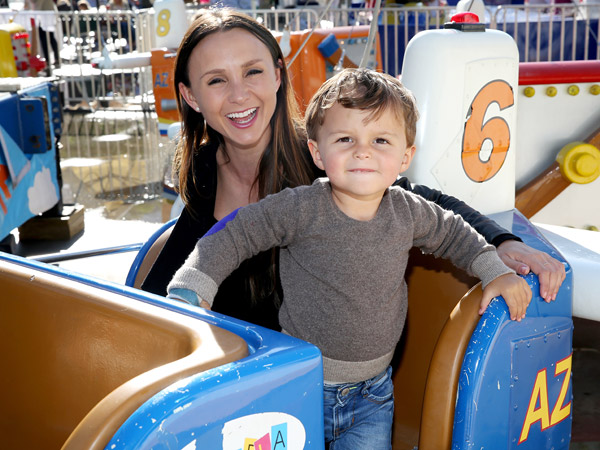 Cindy Ord/Getty
Of course, the former mayor adores his grandson, but his wife is the more "loving and hands-on one," according to his daughter.
However, Jasper is a lot to keep up with. "He broke his first bone, so he has a cast on his arm, but to be honest I'm surprised it took him two and a half years to break a bone," Georgina says.
"He's a real boy and I'm accident prone as well so I think the mixture of him being my son and being a boy has definitely made him more prone to accidents."
She continues, "I think anyone who has a boy would tell you that they do the sort of things that make you look at them and ask why they would do that. 'Oh right, because you're a boy.' You'd never catch a girl doing this."
No matter how challenging raising a rambunctious little boy is, Georgina wouldn't change a thing. "All the clichés really are true — that it changes everything, that nothing else matters," she says. "It's very much like I expected it, it's something I've always wanted. It's the best thing in the world and just as good as I thought it would be."
In fact, Georgina wants to expand her family. "I've always wanted to have more of my own or adopt," she shares. "It's something I've always wanted, right now he has our six dogs, he runs around the yard barking. He definitely thinks he's a dog, so, yeah, I'm starting to think about more human interaction for him."
— Maggie Parker