Savannah Guthrie Expecting Second Child
Surprise: Savannah Guthrie is pregnant — again!
The Today co-host dropped the baby bomb on Tuesday's episode of the NBC show after gathering the crew for a friendly game of Fishbowl — in which the anchors answer "burning questions." Naturally, Guthrie was forced to answer a seemingly silly question: "Are you pregnant?"
"Yeah! I am pregnant," the 44-year-old declared as her fellow co-hosts clapped and cheered.
She announced that she and husband Michael Feldman are expecting another baby in December. The two are already parents to 22-month-old daughter Vale.
"It's hard for words to contain all the excitement Mike and I have about expecting a new baby in December. When Vale was born, our happiness was complete," Guthrie wrote in a statement on the Today show site.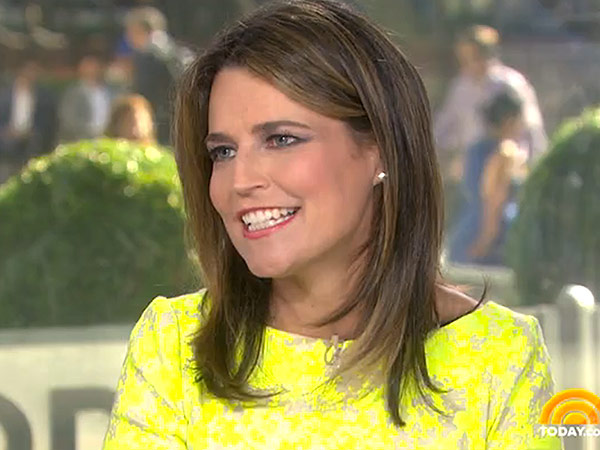 Want all the latest pregnancy and birth announcements, plus celebrity mom blogs? Click here to get those and more in the PEOPLE Babies newsletter.
"The thought of getting to add to our family now is beyond every hope, dream and prayer I have ever had. It is not simply double the joy — it is joy multiplied infinitely."
Though Guthrie is excited about the news, it means she will be opting out of the Summer Olympics in Rio de Janeiro this year, given the widespread impact of the mosquito-borne Zika virus. The virus is known for being connected to severe birth defects, and its latest outbreak began in Brazil.
"I'm not going to be able to go to Rio. The doctors say that I shouldn't, because of the CDC, because of the Zika virus," Guthrie addressed her colleagues on the Today show. "You're going to have to go to female beach volleyball without me, Matt. Try to carry on."
But Guthrie will have plenty to keep her busy back home.
"You guys will have a great time, and I'll hold down the fort," she adds. "We're going to be in the height of the campaign season, so I'll be here."
Guthrie played a clip of the moment she broke the baby news to Vale — and the toddler wasn't too happy.
"Vale, do you want a new baby?" Guthrie asked the little girl, who appropriately was wearing an "I was Here First" t-shirt. Vale replied, "No!"
— Char Adams and Jen Juneau