Tyga on 3-Year-Old Son King Cairo: 'He Makes Me Step Back and Really Enjoy Life'
Tyga could not be prouder of his mini me.
"It's just a great accomplishment to have a mini version of yourself," the rapper, 26, exclusively tells PEOPLE of his 3-year-old son, King Cairo. "You don't owe the world anything, but when you bring a beautiful child like this into the world, you know that you've got a lot to live for."
Tyga and ex Blac Chyna welcomed their son in October 2012. With his fast-paced lifestyle, Tyga says that his little boy has "changed [his] life a lot."
"He makes me step back and really enjoy life," he explains. "That's what life is about. You bring something into the world like that, your whole world kind of stops. It slows down and you look at everything differently."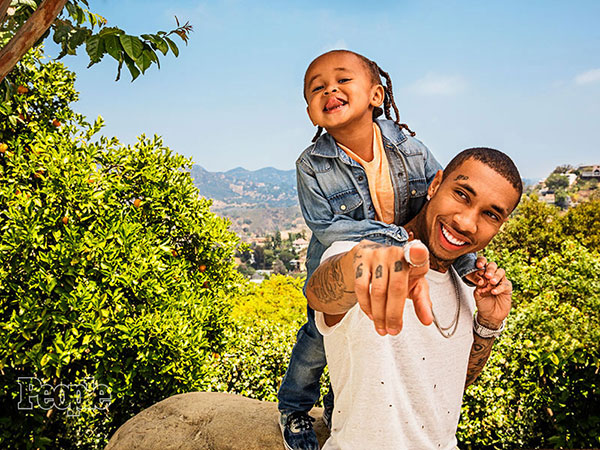 Jim Wright
Want all the latest pregnancy and birth announcements, plus celebrity mom blogs? Click here to get those and more in the PEOPLE Babies newsletter.
And King, who loves anything about cars, is at the fun age where he's repeating everything he hears.
"You've got to be real cautious on what you say and things like that," says Tyga. "But as he's getting older and going to school, he's around other kids so now his personality is just … like, he's learning words I've never heard him say. This is crazy!"
While co-parenting with Chyna and her soon-to-be-husband Rob Kardashian, Tyga says he has a very straight-forward parenting style.
"He's going to learn things, he's going to make mistakes," he says. "I want to let him be a kid and explore what he likes."
The proud dad, who recently split from girlfriend Kylie Jenner, is always staying positive with the help of his son.
"You just got to have a lot of faith in what you do," he says. "Every situation is a learning process, and you evolve from everything … it's just really all about evolving and sticking with what made you."
For more from Tyga, pick up the latest issue of PEOPLE, on newsstands Friday.
— Christina Dugan