Anne Hathaway Learned She's a 'Decent Liar' While Pregnant: 'I Gave All the Wrong Information'
Anne Hathaway better make sure her pants are fireproof!
The star of Alice Through the Looking Glass, in theaters everywhere Friday, stopped by The Late Late Show to talk to host James Corden about her new movie, as well as some interesting tidbits she learned about herself while pregnant with now 8-week-old son Jonathan Rosebanks.
"Did you tell people [he] was coming at a different time?" Corden asks Hathaway when she mentions Jonathan arrived two and a half weeks early. "To knock some people off the scent?"
"One of the things I learned about myself when I was pregnant is that I'm a decent liar," Hathaway, 33, admits.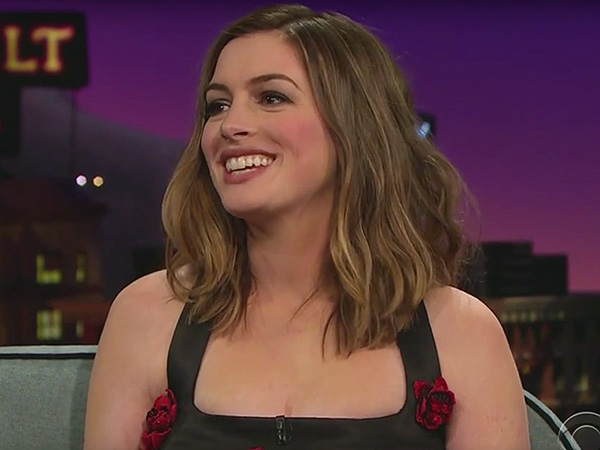 Want all the latest pregnancy and birth announcements, plus celebrity mom blogs? Click here to get those and more in the PEOPLE Babies newsletter.
"Because people [would] come up and [have such] good intentions but they were like, 'Do you know what you're having?!' " Hathaway continues."And I was like … 'Hmm. No.'
"And then they were like, 'When [are you] due?!' and I'm like, 'May,' " the new mom adds in a laid-back tone, shrugging nonchalantly. "I just gave all the wrong information."
It seems like Hathaway's little white lies may have backfired a bit as Jonathan ended up making his debut for his mom and dad Adam Shulman in March.
"So I told people May, but I was carrying really big up front, so by the end of it I would say, 'Oh, May!' [when people asked when I was due], and people would be like … " the Les Misérables star says, pulling a face.
But even though she endured some very direct comments about her pregnancy, Hathaway definitely has a new appreciation for her body after baby.
"I walk in [at the gym], I'm like, 'Yeah, I work out with 5 lb. weights, but I pushed a baby out of my body, I feel good right now,' " she said on The Ellen DeGeneres Show Tuesday.
— Jen Juneau