Rose Byrne Jokes Her Breast Milk Was 'Confiscated' by the TSA: 'They Take It Very Seriously'
Rose Byrne may have just given birth to son Rocco back in February, but she's already learning the pains of traveling as a first-time mom!
On The Late Show with Stephen Colbert Thursday night, while promoting her new movies Neighbors 2: Sorority Rising and X-Men: Apocalypse, the Australian beauty shared an "Only a mom!" story: On a recent trip, she had her breast milk "confiscated" by the TSA.
"They wave this weird thing over the top of it and there's this production going on," Byrne, 36, explained as host Stephen Colbert shared a photo of her at airport security, cheesing for the camera while TSA officials screened her breast milk.
"I just stand there and smile and tell them that it's really breast milk," she adds.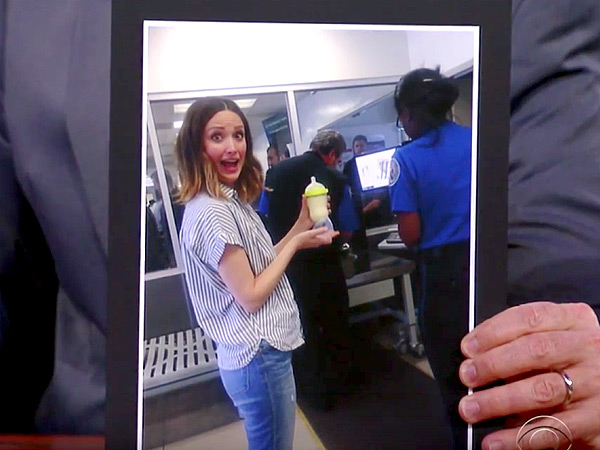 Want all the latest pregnancy and birth announcements, plus celebrity mom blogs? Click here to get those and more in the PEOPLE Babies newsletter.
"I've been doing a lot of traveling, too, so I've been taking my breast milk everywhere with me," Byrne explains.
The TSA 3-1-1 liquids rule prevents passengers from traveling with liquids larger than 3.4 ounces (or 100 milliliters) — but makes an exception for formula, breast milk and juice, which can be carried on board in any size.
"Do you want me to get them out?" Byrne jokes she'd ask officials about her breasts, in an effort to prove the milk's validity. "What do you think [it is]?"
TSA troubles aside, Byrne also complained to Colbert about the added time needed for traveling.
"It takes a long time to leave the house — maybe an hour, hour and 45 minutes just to get out the door," she laments. "You have to bring so many things with you — the bottle, the sling, this and that. Then when you get out, then he just throws up everywhere or takes a big poop and you've got to go back inside again."
The Late Show appears to be the prime location for Rocco-related news. Dad Bobby Cannavale, 46, made Rocco's official birth announcement on the program back in February. The couple began dating over three years ago.
— Dave Quinn